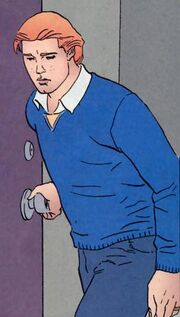 Rodney
was one of Geppetto's wooden soldiers, but he was turned human by
Geppetto so
that he and
his wife could
live in New York City and spy on
Fabletown
. While there he and his wife has a daughter,
Junebug
.
Rodney and his wife turn themselves over to the Fabletown authorities because their brother Pinocchio convinces them that it is what is best for their father Geppetto.
Notes and References
Edit
Ad blocker interference detected!
Wikia is a free-to-use site that makes money from advertising. We have a modified experience for viewers using ad blockers

Wikia is not accessible if you've made further modifications. Remove the custom ad blocker rule(s) and the page will load as expected.