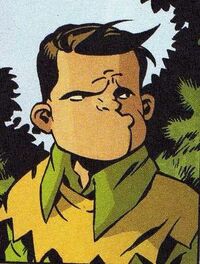 Pinocchio is one of the Fabletown characters who fled to the mundane world and settled in New York City. He is furious with the Blue Fairy because she turned him into a real boy who would never grow into a man. He is the son of Geppetto.
Pinocchio and Geppetto
Edit
Pinocchio realizes that the Adversary has taken Geppetto and enslaved him so that he can make wooden soldiers for them. During the Battle of Fabletown he is beheaded and becomes wooden again. Geppetto restores him to his human form, but then Pinocchio realizes that Geppetto was the Adversary all along.
The Fable
Edit
Notes and References
Edit
Ad blocker interference detected!
Wikia is a free-to-use site that makes money from advertising. We have a modified experience for viewers using ad blockers

Wikia is not accessible if you've made further modifications. Remove the custom ad blocker rule(s) and the page will load as expected.