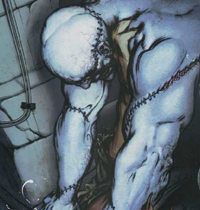 Frankenstein's Monster was animated by the Nazis in World War II. He fought Bigby Wolf when Bigby Wolf teamed up with Allied soldiers to stop the experiment. He is now only an animated head which is in the business office in the Woodlands building, and Bufkin often gives him drinks due to his phantom thirst. He is one of Bufkin's best friends.
The Fable
Edit
Notes and References
Edit
Ad blocker interference detected!
Wikia is a free-to-use site that makes money from advertising. We have a modified experience for viewers using ad blockers

Wikia is not accessible if you've made further modifications. Remove the custom ad blocker rule(s) and the page will load as expected.