Epiphany Constantine
Real Name
Epiphany Constantine nee Greaves
Unusual Features
Multiple piercings
Current Residence
London, England, UK
Epiphany Greaves is the daughter of gangster Terry Greaves.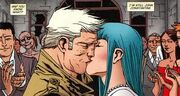 She became engaged to
John Constantine
. She was shunted off to the past in London in 1979 by Shade, where she met the past John Constantine. When she returned she married John, and is now living with him in his apartament.
Notes and References
Edit
Ad blocker interference detected!
Wikia is a free-to-use site that makes money from advertising. We have a modified experience for viewers using ad blockers

Wikia is not accessible if you've made further modifications. Remove the custom ad blocker rule(s) and the page will load as expected.