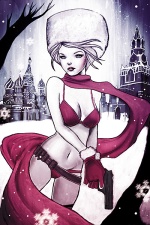 Cinderella was the third wife of Prince Charming. She is immortal, and although she works at a shoestore called the Glass Slipper, she also works as a secret agent for the sheriff, once Bigby Wolf and later The Beast. She has seduced Ichabod Crane to get him to reveal his willingness to turn traitor and helped with the interrogation of Baba Yaga.
The Fable
Edit
Notes and References
Edit
Ad blocker interference detected!
Wikia is a free-to-use site that makes money from advertising. We have a modified experience for viewers using ad blockers

Wikia is not accessible if you've made further modifications. Remove the custom ad blocker rule(s) and the page will load as expected.