Boo Bear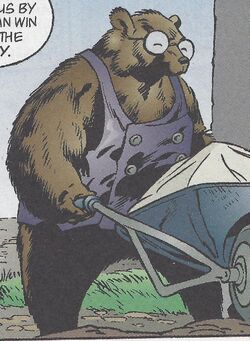 Affiliation
Rebellion group at the Farm
Boo Bear
, also known as Baby Bear, is one of the Three Bears. He is the son of
Papa Bear
and
Mama Bear
. He is in a relationship with
Goldilocks
. He fought in the revolt at
the Farm
and was then sentenced to one hundred years of hard labor.
He was killed during the fight against the wooden soldiers in Fabletown. His body was then commited to the Witching Well. Mama Bear then became pregnant again and so the Fable once more had three bears.
Boo Bear accompanied King Ambrose to Haven.
The Fable
Edit
In the story of "Goldilocks and the Three Bears" the Three Bears leave their house to take a walk. When they return they find a girl, Goldilocks, had tried their porridge, eating all of Baby bear's, sat in their chairs and broken Baby bear's and is now sleeping in baby bear's bed.
Notes and References
Edit
Ad blocker interference detected!
Wikia is a free-to-use site that makes money from advertising. We have a modified experience for viewers using ad blockers

Wikia is not accessible if you've made further modifications. Remove the custom ad blocker rule(s) and the page will load as expected.