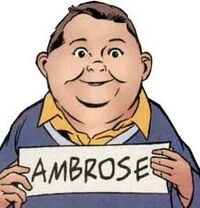 Ambrose is one of the cubs of Snow White and Bigby Wolf. He is shown as chubby, sweet, and cowardly.
Notes and References
Edit
He is named after the Frog Prince; he was the janitor of Fabletown's main building--the Woodland Luxury Apartments
Ad blocker interference detected!
Wikia is a free-to-use site that makes money from advertising. We have a modified experience for viewers using ad blockers

Wikia is not accessible if you've made further modifications. Remove the custom ad blocker rule(s) and the page will load as expected.